PARISH AND YOUTH MINISTRY

CHRISTMAS SHARING PROGRAM

Plans are being made for this year's Christmas Sharing Program and we need your help.

Each year we provide clothing and toys to children age 16 and younger in needy families. The families must meet one of the following criteria: be parishioners of St. Ann's, live in West Bridgewater, attend West Bridgewater schools, or be recommended by a parishioner of St. Ann's.

As always, we rely on you to help us find the families in need of assistance. If you know of a family who is struggling due to a job loss, injury or disability, please call Linda Santry at 508-586-6535, or email her, linda@santry.org.
ADVENT MISSTION - STARTS DECEMBER 3rd
ADVENT MISSION SCHEDULE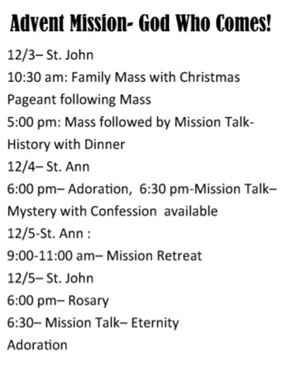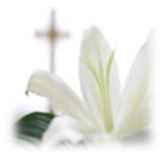 BEREAVEMENT MINISTRY

St. Ann's is looking to form a Bereavement Ministry.
The Bereavement Ministry would be people from the parish who would be willing to meet with people who just lost a loved one and are planning their funeral. The Bereavement Ministry offers these people a source of solice and support.
Many times the loved ones have fallen away from the Church and do not know how to plan the Funeral Mass. Our job is to gently guide them through this process and offer any comfort while doing so.
If you are interested in offering your service in this way, please contact Arlene Stefano at the Rectory. 508-568-4880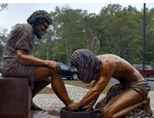 SERVICE OPPORTUNITIES - MY BROTHER'S KEEPER
We will be working with My Brother's Keeper throughout the year
to partner with them in the Christmas Gift Program
and other year round programs.

My Brother's Keeper is a vibrant, welcoming Christian ministry in Easton
and Dartmouth, Massachusetts which delivers furniture and food
to local families in need. Our mission is "To bring the Love and Hope
of Jesus Christ to those we serve." As a gift at each furniture delivery
we offer a crucifix with the message,
"We're just the delivery people...this is the man who sent you the furniture."

HANDICAPPED SEATING
LITERATURE RACK
ST ANN'S PRAYER LINE - God is just a prayer away
SAINT VINCENT de PAUL CLOTHING BIN
RENEWING THE RITUAL OF "BRINGING UP THE GIFTS" FOR MASS
FOOD PANTRY - The cupboards are empty
DEFIBULATOR
NURSES' REFERENCE TABLE