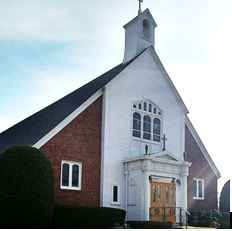 The Church of Saint Ann -
Religious Education Program


The Saint Ann's Religious Education Program provides the structure for children to learn about their Catholic Faith with other children of this Parish community. With parents as the first catechists, our Religious Education program partners with families to assist in the faith formation process, encouraging children to explore their Catholic Identity. Knowing the Eucharist is the central part of our Catholic Faith and the life of the church, we stress the importance of attendance at Sunday Mass and Holy Day Mass celebrations. The frequent reception of Holy Communion and the regular reception of the Sacrament of Reconciliation are also encouraged in addition to regular attendance at CCD.

Mission Statement

The goal of the Religious Education Program at St. Ann's Parish is to bring, through catechesis and prayer, the message of Jesus Christ and His Church to all members of the community. It is its aim to help students acquire and develop their own Catholic, Christian faith, so that our parish community and its members may truly witness to the Good News of Our Lord, Jesus. All of our efforts are meant to support parents as the primary religious educators of their children. We provide formal religious education that builds upon the everyday lived experience of the faith that is shared in your homes and at Sunday Mass.

We are a welcoming Parish, with our doors open to all God's children.


Reverend Paul Ring, CCD Director
Nancy Goggin
Director of Ministries
508-378-4207 or
508-586-4880
directorofministries.tic@gmail.com
Weekday Office Hours @ Rectory – 9:00am to 4:00pm Mon-Fri
Other hours, gladly, per request

Web Site Designed and Maintained by St. Ann's Church - All Rights Reserved - Last Updated September 2021