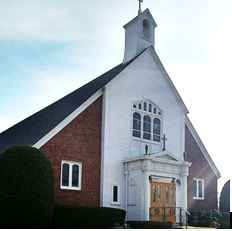 The Church of Saint Ann - Ministries

Saint Ann's Parish strives to provide for the needs of parishioners and non-parishioners alike through the work of its committees made up of individuals like you. This notice is to provide information about each group, to invite parishioners of all ages to offer their talents to advance the work of these groups, and to encourage those who have particular needs to avail themselves of the services provided by these committees. Please let us hear from you!
Abraham's Angels
A group of parishioners who attend funeral Masses for deceased members of our parish community. The ministry is especially important when the deceased person has no family or no one to attend the funeral Mass.



Required of Volunteer:

You are called and given a day and time for a funeral Mass or memorial service.

Time Commitment:

Attend a scheduled funeral Mass whenever possible.

Contact:

The rectory at 508-586-4880.
Altar Servers
Boys and girls 10 years or older, who assist the priest at Mass.



Volunteer Position:

Altar Server.

Required of Volunteer:

Must have received Holy Communion and First Penance and be at least 10 years old.

Experience Necessary:

None.

Training Required:

Every Fall, six mandatory training sessions are held.

Time Commitment:

Serve at assigned Mass approximately every two weeks or as needed.

Contact:

The rectory at 508-586-4880.
Bereavement Support Group
This group provides support meetings for family members of the deceased. They meet the first Wednesday of every month at 10:00 a.m. and again at 7:00 p.m. in the Parish Hall.

Experience Necessary: Some experience with Hospice or counseling or organizations dealing with death.
Time Commitment: One hour a month.
Contact: The rectory at 508-586-4880.
Daily Rosary
Recitation of the daily rosary (8:30 a.m.) prior to the 9:00 a.m. daily mass on Monday, Tuesday, and Friday.

Volunteer Position:

Any Adult

.

Required of Volunteer:

Lead the rosary one day (usually the same day) of the week.

Experience Necessary:

An understanding of the recitation of the rosary.

Training Required:

None.

Time Commitment:

Approximately 20 minutes each week.

Contact:

The rectory at 508-586-4880.
Divorced & Beyond
Divorced and Beyond is a support group for divorced Christians. It is a ten week program sponsored by The Family Life Office of the Diocese.



Volunteer Position:

Facilitator.

Training Required:

Yes, two day training program given as needed.

Time Commitment:

2 hours/week for ten weeks.

Contact:

The rectory at 508-586-4880.
Extraordinary Ministers of the Homebound and Nursing Homes
The Extraordinary Ministers are members of the parish community commissioned in the distribution of the Holy Eucharist to the nursing homes and homebound.

Volunteer Position: Extraordinary Minister.
Required of Volunteer: Registered parishioner and a practicing Catholic.
Training Required: Provided by the parish.
Time Commitment: Twice a month to the nursing homes and every week to the homebound.
Contact: The rectory at 508-586-4880.
Eucharistic Ministers
Food Pantry

Donate to the West Bridgewater Food Pantry and bring nonperishable food to Mass.
Check the bulletin for items currently needed.
Thank you for your continued generosity.
The Food Pantry is located at the Spring Street School and is open the first & third
Wednesdays of the month from 2:00 to 4:00 p.m.

Stewardship - West Bridgewater Food Pantry
The Food Pantry of West Bridgewater fulfills the counsel of Jesus, "When I was hungry,
you gave me to eat."

Current statistical accounting of the people served by the Food Pantry.
Total number of People served: 171
Total number of households: 62 - Female 62 - Male 18
Total number of adults: 95 - 56 under the age of 55 - 39 over the age of 55
Ethnic background: Caucasian 161 - Hispanic 9 - American Indian -1
Children under 18: 76

The reasons why these people need the food pantry are:
Poverty level: 33
Unemployed: 15
Senior retired/pverty level: 7
Handicapped: 3
Illness: 4
Gabriel Group
This groups assists with new parishioner registration at a monthly welcoming breakfast. This breakfast is held the second Sunday of each month at 9 :15 in the Parish Hall.

Required of Volunteer: Welcome new members, help them fill out registration form, assist with presentation, and hand out information packets.
Time Commitment: Two hours once a month and some organizational meetings.
Contact: The rectory at 508-586-4880.
Hands of God
The Hands of God group does physical labor projects for the church and the community. It is an informal group with abilities ranging from pro to amateur. Attitude and desire is as important as ability. Projects have included church repair, maintenance and improvements, painting houses, home repairs, landscaping and other labors of love. The group was formed to facilitate our need to give in return for our many blessings. We enjoy the fellowship of Christians doing God's work.

Volunteer Position: Adult male or female wanting to help others and to facilitate their need to give in return for their many blessings.
Time Commitment: As needed.
Contact: The rectory at 508-586-4880.
Hospitality
Our mission is to foster a warm and welcoming atmosphere for all parishioners and guests - whatever their interaction with the church might be. We work collaboratively with many other hospitality-based groups such as the Ushers, the Gabriel Group and the Greeters. Our primary goal is to provide appropriate food, beverages, and decorations. We also prepare and serve the monthly Newcomers breakfast for new parishioners.

Volunteer Position:

Many opportunities to help during the year, preparing and serving food and clean-up.

Time Commitment:

Usually about two hours per event.

Contact:

The rectory at 508-586-4880.
Lectors
Parish Pastoral Council
The Parish Pastoral Council (PPC ) is a representative body of men and women from all areas of our parish community. It's primary role is to serve as a consultative and advisory board to the pastor in all matters which ensure implementation of the parish mission statement.
Contact: The rectory at 508-586-4880.
Parish Finance Council
The Parish finance Council is a consultative and advisory body that serves the Pastor in all financial matters, and serves the Parish as good stewards of its God given reassure. The Finance Council advises the Pastor on matters involving accounting, administration, law, information technology, major expenditures, borrowings, facilities and maintenance.

Contact: The rectory at 508-586-4880.
Parish Needs Crucifix
Parish Nursing Ministry
On the first weekend of every month, (the second if the first falls on a holiday) nurses from our parish are available after each Mass to take your blood pressure.

Volunteer Position:Blood Pressure Screener.
Experience Necessary: RN with an active Massachusetts license and a registered parishioner.
Training Required: As needed.
Time Commitment: Once a month.
Contact: The rectory at 508-586-4880.
Prayer Line - Prayer Wall
Prison Ministry
One out of every 100 American adults is in prison. Jesus says that when you visit a prisoner, you visit Me.

We are a current group of five women and seven men who alternate and bring Christ's message to those incarcerated and see lives change. Why not consider a one time visit and come along on a Wednesday night, 6:30-8:30 p.m. for a Communion Service and Christian visit. No religious training is required. You will be treated with much dignity and respect by the men and you will feel appreciated. You will make a difference! For questions and concerns, please call Bob Amber at 508-587-1786.
Respect Life
Respect for ALL life - this is the goal of the Respect Life Committee. Keeping the parish community informed and involved in all areas where life is being disregarded or threatened. This may be the unborn, the elderly (Euthanasia), disabled or on death row. When we Respect ALL Life it is from conception through natural death.



Volunteer Position:

Volunteers needed.

Time Commitment:

As needed.

Contact:

The rectory at 508-586-4880.
Religious Education Teachers and Assistants
The mission of parish religious education is to assist all people in learning and living the mystery of Jesus Christ. To serve this mission, with the help of God's grace, we offer formal and informal instruction and formation whereby each individual may embrace a personal relationship with Jesus Christ and live as his follower for the advancement of the kingdom of God. The goal of all catechesis is connecting faith to life and life to faith.

Volunteer Position: Catechist.
Required of Volunteer: Teach a class of children for a weekly period of one hour and fifteen minutes. Ability to use several kinds of teaching media and methods, including lecture, discussion, text, activities, film and video, games, worksheets, drills and memorization. Have frequent contact with parents throughout the year. Meet with the director and other Catechists several times a year.

Volunteer Position: Assistant.
Required of Volunteer: Help the Catechist in all teaching activities at all class sessions. Help to manage children in the various class activities. May tutor children on an individual basis. May substitute for the Catechist.

Contact: Contact the CCD Office at 508-588-7140.
Shawl Ministrt
Since 2003, members of Saint Ann's Shawl Ministry have created and given more than 150 shawls to individuals in the community as an offering of prayer and comfort.

SHAWL MINISTRY MEETINGS

While there is a gathering of shawl makers on the first Saturday of each month, many of our knitters and crocheters work at home and come to the gathering occasionally or not at all. The important part of the ministry is the prayerful work that goes into the shawl creation.

Anyone who is interested in this Ministry is welcome to come to one of the Saturday gatherings any time. St. Ann's Shawl Ministry meets in the Parish Center from 2 - 3:30 pm on the first Saturday of the month, from September to June. There is no commitment needed to come each month, or to stay for the scheduled 1 1/2 hrs.

SHAWL MAKING AT HOME



If you can do a basic knit or crochet stitch, you can make a shawl.

We are looking for volunteers to make and donate one or more shawls to the Ministry.



BAPTISMAL SHAWLS



One of our shawl makers has developed a pattern for a knitted baptismal shawl. We would like to be able to offer these to welcome newly baptized babies to the community of St. Ann's, but need more help to make a sufficient supply for approximately 60 baptisms so your help is much appreciated.

Contact Shawl Ministry at St. Ann's

(508) 586-4880

if you would like more information.

For more information about the Shawl Ministry including Shawl Knitting Directions, log on to www.shawlministry.com

Ushers Greeters
Ushers - Welcome those attending Mass. They assist in seating, especially visitors and the handicapped. The users are responsible for taking up the collection, and directing attendees to Communion. They also distribute bulletins and prepare the church for the next Mass.

Volunteer Position:Usher.
Required of Volunteer: Church member in good standing. Dress Code. Experience: None.
Training Required: Will train in position.
Time Commitment: Usher at assigned Mass weekly and as needed at special seasons such as Easter and Christmas.
Contact: The rectory at 508-586-4880.
Saint Vincent dePaul Conference
Saint Ann's Church has established a Saint Vincent dePaul Conference. The Society is a tax exempt organization which is a separate entity from Saint Ann's Church. The members of our Conference are very optimistic that we will be able to do more for families who are experiencing serious set backs and need emergency assistance.
Contact: The rectory at 508-586-4880, Ext. 220.
Web Site Designed and Maintained by St. Ann's Church - All Rights Reserved - Last Updated, May 2020