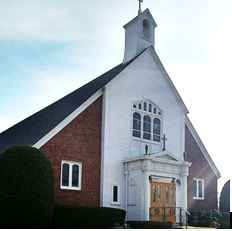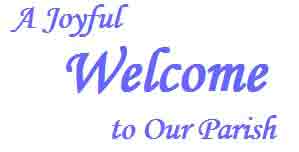 The Weekly Sunday Mass Schedule is as follows:

**MASKS ARE NOW REQUIRED

Saturday 4:00 St. Ann's
Saturday 5:30 St. John's
Sunday 8:30 St. Ann's
Sunday 10:30 St. John's

***SUNDAY CONTEMPORY EVENING MASS
AT ST. ANN - 6:15pm***

*** The New Contemporary Mass***
Indoor and live streamed to cars in parking lot. Communion will be distributed to those attending from their cars.




SUNDAY MASS AT SAINT ANN'S PARISH
Janaury 16, 2022

ATTENTION!!

BEGINNING IN ADVENT

DECEMBER 1ST IN-PERSON DAILY MASSES WILL RESTART AT SAINT ANN'S AND SAINT JOHN'S AT 9 AM (in the church, not the Chapel...Masks are now required) THESE MASSES WILL ALSO CONTINUE TO BE LIVE-STREAMED

WEDNESDAY & FRIDAY AT SAINT JOHN
THURSDAY & SATURDAY AT SAINT ANN

CONFESSIONS WILL BE AT SAINT ANN'S BETWEEN 3:00-3:30 OR BY APPOINTMENT WITH ONE OF THE PRIESTS AVAILABLE.

ALL ARE WELCOME.
LITURGY SCHEDULE
MASKS ARE NOW REQUIRED

Saturday:
4:00 p.m.


Sunday:
8:30 a.m.

***Sunday Contempory Evening Mass
at St. Ann - 6:15pm***

Sunday Mass is also recorded.
Link is found on our websites

In-Person Daily Mass 9:00 am
Wednesday & Friday at St. John
Thursday & Saturday at St. Ann

Live-streamed on Facebook
Daily - 9:00 am

Marriage & Baptism:
Please call the Rectory

Confessions will be at St. Ann's between 3:00-3:30 or by appointment



Adoration of the Blessed Sacrament
Live-streamed on Facebook
6:00 am

The Church of Saint Ann
103 No. Main Street
West Bridgewater, MA 02379

Reverend Paul Ring
Pastor

Priests In Residence

Fr. Peter Francis
Fr. Michael Diochi

Christopher Connelly
Deacon

Parish Office: 508.586.4880

Nancy Goggin
Director of Ministries
508-378-4207 or 508-586-4880
Email

Collaborative Ofice Hours
9am - 4 pm
Monday - Thursday ,
103 No. Main St.
West Bridgewater, MA 02379
Church of Saint John, The Evangelist

210 Central St.

East Bridgewater 02333

Office - 103 N. Main St.

West Bridgewater - 508-378-4207

e-mail - stjohnebridge@comcast.net

Web Site -

https://stjohneb.org






THE WEDDING AT CANA

There was a wedding at Cana in Galilee, and the mother of Jesus was there. Jesus and his disciples were also invited to the wedding. When the wine ran short the mother of Jesus said to him, "They have no wine."
- Jn 21-3
2nd SUNDAY IN ORDINARY TIME

January 16, 2022

DAILY BREAD
Prayer for Spiritual Communion

by St. Maximillian Kolbe

My Jesus, I believe that you are present in this Holy Sacrament of the altar. I love you above all things and I passionately desire to receive you into my soul. Since I cannot now receive you sacramentally, come spiritually into my soul so that I may unite myself wholly to you now and forever. Amen.

PRAYER FOR SPIRITUAL COMMUNION
CATHOLIC TV DAILY AND SUNDAY MASS

Cardinal Sean encourages Catholics to participate in the daily and Sunday Masses broadcast from the Catholic TV chapel. Daily mass aires live at 9:30 am and is rebroadcast at 7 pm and 11:30 pm. Sunday Masses air throughout the day at 10 am, 4 pm, 7 pm and 11:30 pm.

Viewers can watch these Masses on demand at anytime at

www.WatchtheMass.com

Also visit

www.catholictv.com


Hear about how the central ministries of the Archdiocese have helped our collaborative parishes.



St. Ann's Prayer Line

God is just a prayer away More Information
Web Site Designed and Maintained by St. Ann's Church - All Rights Reserved - Last Updated, January 16, 2022