TOGETHER IN CHRIST COLLABORATIVE


Church of Saint Ann
West Bridgewater MA
Website: stannswb.com


St. John The Evangelist
East Bridgewater MA

Website: stjohneb.org




The Church of Saint Ann

"The Little Church That Could...and DID"

West Bridgewater, Massachusetts
Parish Office: 508-586-4880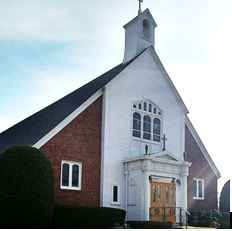 CHRISTMAS PAGEANT IS BACK


We are very excited to announce that the Christmas Pageant is back this year! All children in the collaborative are invited to participate and all are welcome to attend.

The performance will be Sunday 12/18 at 12:30 in St. Ann's Parish Center. Rehearsals are Monday 12/5 and 12/12 from 5:15-6:15 and Friday 12/16 from 5-6 at St. Ann. There are speaking and non-speaking roles and costumes will be provided. If your child wants to participate, please email Matt Brady.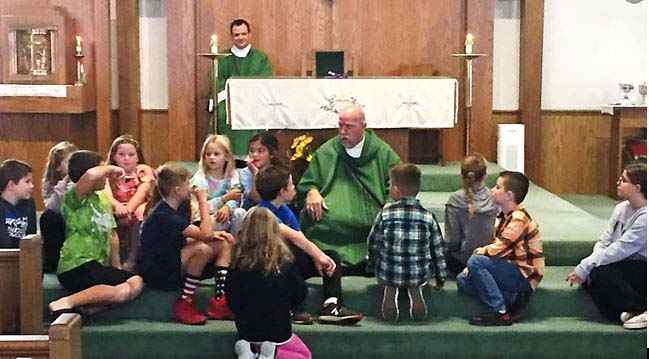 FAMILY MASS on Nov. 6th

Once a month on the first Sunday of the month between now and May, we will hold these special Masses at the 9:30 Mass at St. John's and we invite all families in the collaborative to attend. The kids will be able to be the readers, gift bearers and help with the collection, and Fr. Paul will invite them up to the altar for a special children's homily. There will also be coffee and donuts downstairs after Mass.

To help with the costs of this activity, we are looking for someone to sponsor the coffee and donuts. If you are interested in helping with this, please email Matt Brady.

Hope to see you there!

Family Mass Dates
12/4
1/8
2/5
3/5

It's not too early to sign up to help with the Mass on 12/4. We need readers, gift bearers and ushers, and someone to sponsor the coffee and donuts. If interested, please email Matt Brady.
FAITH FORMATION REGISTRATION FORM
If you have any questions, please contact Matt Brady at directorofminstries.tic@gmail.com
REGISTRATION INFORMATION FOR FAITH FORMATION
Registration for this year's faith formation program is now open. Registration form can be found in the link below.
Classes will begin Sunday, October 2nd so please register as soon as possible to allow us to finish getting ready.
The schedule of classes is below. When registering, please select the class each child in your family will attend. All classes will meet weekly, except for grades 9 and 10, which will alternate weeks. Once registrations are processed, you will receive the full schedule of class dates by email.
The cost for this year's program is $100 for the first child, and $25 for each additional enrolled child. You can make out a check to your parish, or pay online on the St. John's website (St. Ann isn't equipped with online giving yet) here https://giving.parishsoft.com/App/Giving/stjohneb by selecting "Religious Ed Tuition" as the fund
Catechists are also needed for all grades. If you are interested in serving in this vital role, please contact Matt Brady. He will train you and make sure you are well-prepared for each session.
If you have any questions, please reach out to Matt Brady by email at directorofministries.tic@gmail.com or by calling the office.
Schedule of Classes:
Grades 1-5 Sundays 8:15-9:15 am @ St. John
Grades 1-5 Mondays 4-5 pm @ St. Ann
Grades 6-8 Sundays 5-6 pm @ St. Ann
Grades 6-8 Tuesdays 4-5 pm @ St. Ann
Grade 9 Sundays 7:15-8:15 pm @ St. Ann
Grade 10 Sundays 7:15-8:15 pm @ St. Ann
FAITH FORMATION REGISTRATION FORM


MATT BRADY - DIRECTOR OF MINISTRIES

"Hello everyone! My name is Matt Brady and I am very excited to be joining you as the new Director of Ministries. I have a master's degree in theology from Catholic Theological Union in Chicago and an undergraduate degree from Salve Regina University. I spent the past three years at St. Denis in Westwood, where I led a revitalization of their faith formation program and family ministry and helped guide the parish through Covid.

I am looking forward to working with all of you, especially the families, to grow and strengthen our Together in Christ Collaborative."

Mission Statement

The goal of the Religious Education Program at the Together In Christ Collaborative is to bring, through catechesis and prayer, the message of Jesus Christ and His Church to all members of the community. It is its aim to help students acquire and develop their own Catholic, Christian faith, so that our parish community and its members may truly witness to the Good News of Our Lord, Jesus. All of our efforts are meant to support parents as the primary religious educators of their children. We provide formal religious education that builds upon the everyday lived experience of the faith that is shared in your homes and at Sunday Mass.

We are a welcoming Parish, with our doors open to all God's children.


Matt Brady
Director of Ministries
774-533-2002
directorofministries.tic
@gmail.com
Weekday Office Hours @ Rectory – 9:00am to 5:00pm Mon-Fri