TOGETHER IN CHRIST COLLABORATIVE


Church of Saint Ann
West Bridgewater MA
Website: stannswb.com


St. John The Evangelist
East Bridgewater MA

Website: stjohneb.org




The Church of Saint Ann

"The Little Church That Could...and DID"

West Bridgewater, Massachusetts
Parish Office: 508-586-4880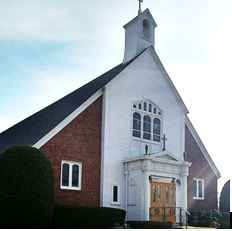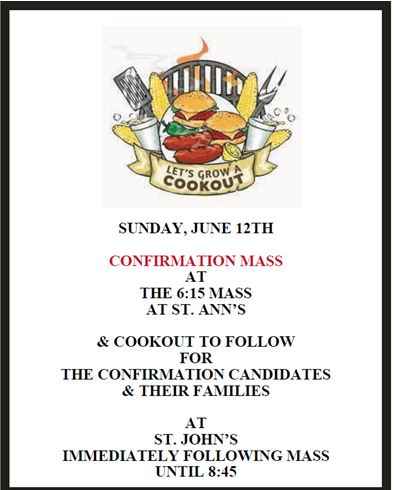 ***THE FIRST HOLY COMMUNION EVENT FOR GRADE 2 HAS BEEN RESCHEDULED TO AUGUST***
(Date To Be Announced Later)


IMPORTANT NOTICE !!!!!

Starting February 13th. All Sunday morning classes will include Mass.

Grades 1 and 2 will attend the 10:30am Mass after their class and sit together in the Church. Pick up will be after the 10:30am Mass.

Grades 3,4,5 and 6 will attend the 10:30am Mass and sit together as a class and have class after the Mass.

Parents are welcome to come to the 10:30 Mass as well.

Families that attend the 6:15 Mass at St Ann's are welcome to do so as well.

Below please find a link to a video talk that explains why we are doing this.

******Please click the link for a video talk that explains why we are doing this








PLEASE WELCOME OUR NEW DIRECTOR OF RELIGIOUS EDUCATION

My name is Nancy Goggin and I am thrilled to be your new Director of Ministries. I come to you with 24 years of ministry experience at both the parish level and Catholic Schools, in the capacity of Director of Religious Education, Director of Youth Ministry and Theology Teacher. Over the past 24 years, I have had extensive training from the Archdiocese in Religious Education and Youth ministry. I have participated in a certificate program from the The Center For Ministry Development on designing total youth ministry programs. I am certified by The Theology of The Body Institute on Theology of the Body and Chastity. I have taken theology classes at St.John's Seminary and have my Master's degree in Theology from Boston College. I am also certified by the Archdiocese of Boston's office for Child Safety as a "Train the Trainer". This means that I am certified to train parishes and volunteers to develop and implement programs and structures that assure the safety of the children in the Parish.

Although I have a tremendous love and passion for ministry, pursuing ministry was not my first career choice. I was actually employed in the Fashion Industry in New York City for 13 years as a Fashion Trend Forecaster. I would project fashion trends 18-20 months in advance of the selling season. As strange as it may sound, it was through doing this work that God called me into ministry.

A large target market in the fashion industry is the youth market. Therefore, it was my job to study youth Culture. The more I studied, the more horrified I became. In those days, gang activity was very bad, suicide rates were high and it was estimated that 100,000 children nationally were bringing a gun to school.

I was so disturbed by all of these stats that each night I would fervently pray that God would send people to work with the youth. I felt that if the youth knew how much God loved them, they would not be killing themselves and they would not be killing others. Each night as I prayed, the response was the same - Go and do it!

For three years, I denied my call into ministry because I did not feel like I was qualified to do the work. After all, there were so many people that had chosen ministry as a career and had been schooled in ministry work. Yet, God was calling me, someone who worked in the Fashion Industry? Finally, I could not battle with God any longer; I gave God my yes and started working as a volunteer in NYC doing both religious education and youth ministry. The work was so profound that I used to tell people that my job in the Fashion Industry was my hobby but that my passion was doing ministry work.

Finally, upon moving back to Massachusetts 25 years ago to marry someone I went to High School with, I decided to pursue a career in ministry as a parish Director of Religious Education and Youth Ministry. Throughout the past 24 years, in the programs I directed, God's love has impacted the lives of many youths, resulting in vocational calls to holy marriages, missionary work and the Priesthood.

I have a passion to know, love and serve God and to help others to do the same. I look forward to seeing the beautiful work that God has visioned for the Together in Christ Collaborative of St Ann's and St John's and I look forward to working with all of you to actualize that vision, so that together we may all come to more fully know, love and serve God.




The Together in Christ Collaborative's Religious Education Program provides the structure for children to learn about their Catholic Faith with other children of this Parish community. With parents as the first catechists, our Religious Education program partners with families to assist in the faith formation process, encouraging children to explore their Catholic Identity. Knowing the Eucharist is the central part of our Catholic Faith and the life of the church, we stress the importance of attendance at Sunday Mass and Holy Day Mass celebrations. The frequent reception of Holy Communion and the regular reception of the Sacrament of Reconciliation are also encouraged in addition to regular attendance at CCD.

Mission Statement

The goal of the Religious Education Program at the Together In Christ Collaborative is to bring, through catechesis and prayer, the message of Jesus Christ and His Church to all members of the community. It is its aim to help students acquire and develop their own Catholic, Christian faith, so that our parish community and its members may truly witness to the Good News of Our Lord, Jesus. All of our efforts are meant to support parents as the primary religious educators of their children. We provide formal religious education that builds upon the everyday lived experience of the faith that is shared in your homes and at Sunday Mass.

We are a welcoming Parish, with our doors open to all God's children.


Nancy Goggin
Director of Ministries
508-378-4207 or
508-586-4880
directorofministries.tic
@gmail.com
Weekday Office Hours @ Rectory – 9:00am to 4:00pm Mon-Fri
Other hours, gladly, per request